A Toledo Divorce Attorney Can Help You Save Time and Money
If you or someone you know is contemplating a divorce, before taking action you may want to consult a Toledo divorce attorney who can advise you on your rights as well as the state's divorce law. Although some divorces proceed smoothly and amicably, many do not, and result in extended conflict for everyone involved. A competent attorney can help you prepare for your divorce at low cost and with minimal effort.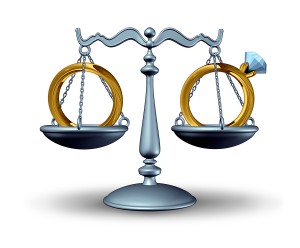 Save time.
Toledo OH residents who are considering divorce proceedings can avoid months of uncertainty or hours of personal research by consulting experienced Maumee, Ohio divorce attorneys. Lawyers who specialize in domestic law, especially divorce, understand the issues that must be addressed when a married couple decide to dissolve their relationship.
Child support and custody questions, division of marital assets, and the represented spouse's rights will be carefully evaluated and determined according to the lawyer's knowledge of state law. This will save considerable time for a person who is pursuing a divorce and who does not know where to begin finding answers to important questions.
Spend less.
A Toledo divorce attorney knows what to do and how to save time in processing a divorce. This, in turn, cuts costs that could otherwise add up based on an hourly billing system related to research, client conferences, and preparation for court proceedings.
A general practice attorney may require more time, which contributes to growing legal fees, to update his or her knowledge of divorce law and become familiar with the case if prior experience is limited or not recent. Additional research and more time spent with the client to become familiar with divorce issues could ratchet up the bill and cost far more than when dealing with an experienced divorce attorney.
Recover faster.
When you work with a competent Toledo OH divorce lawyer, you can rest assured that your case is in good hands. You don't have to worry whether the proceedings will be handled correctly or in a timely manner. You won't have to do much of the legwork required to file the case or prepare for court. Less time and stress spent on the legal aspects of the divorce means you will have more time to focus on preparing for a new life and making the necessary adjustments.
You can also expect less stress when working with a professional divorce lawyer. A confident attorney provides peace of mind and allows you to focus on more personal aspects of divorce preparation and recovery. An attorney who seems uncertain or who forgets to file documents in accordance with the court timeline could set your case back and create a bad impression for the judge who will hear the case.
Getting a divorce is not easy. Complex cases with children and significant assets require even more effort. That is why it is important to find an attorney who is familiar with and experienced in local divorce law. The divorce can proceed smoothly with minimal conflict to reach a reasonable and timely settlement.
Contact Michael E. Bryant's Toledo, OH law office today to get the justice you deserve. Find Michael E. Bryant online at www.mebryantlaw.com, visit our law office in Toledo, OH on the second floor of 1119 Adams St. or call us at (419) 243-3922.