General Practice Areas
You think you need a lawyer but just aren't sure.  Where do you start?  Who do you contact?  Do you even need a lawyer?  And if so what kind of lawyer do you need?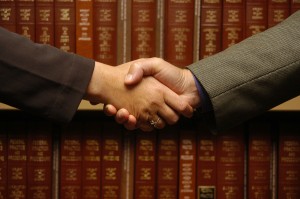 I have the answers.  I don't practice every area of law because I understand that I have limits and, frankly, there are just some things that I hate doing.  I know that I have a certain skill set, and demeanor for for being a certain type of lawyer (which generally includes being in a courtroom).  But I understand that I don't always have the knowledge and expertise, or ever the proper resources to properly execute all my client's needs.  But if you call me with a question or concern, or just a story, we will talk for a few minutes to get to the root of the problem and evaluate if you really need a lawyer or if there are other resources that can help you get answers or satisfaction.  Sometimes I tell people that they need an attorney right now and we schedule an appointment right then and there.  Other times I tell people they are in "wait and see" mode; we hope nothing happens, but call me if it does.  A lot of times I tell people, "That is not my area of expertise, but you should call so-and-so."  I know a lot of attorneys that specialize in a lot of different areas of law, so if I can't help you I probably know someone who does.
In addition to the big three (Criminal/Family Law/Wills and Estates) there are many other areas where I do practice.  I practice in these areas mostly because I want to be able to provide you with all of your legal needs.  I have found that many of my clients need help in more than one area at a time.  Knowing and understanding what you need and how they relate to everything else going on in your life is very important.  I want to be able to categorize and prioritize your legal life, so that I can get you the end result you need as soon as possible.  I want to handle things in the right order so that you expend as little time, energy, stress and money as possible.
Here are some other area's I practice in:
Business and Entity Formation
Starting a business can be really exciting.  But you probably need a lot of guidance and I can help.  There are a lot of variables that go into starting or acquiring a business, and it only makes sense to talk to an attorney who knows the what, why and when to business.  In addition to starting and maintaining my own successful business, I have helped a lot of small and medium size business get off the ground and expand beyond their wildest dreams.  I can help you as well.
Collections
There are few things worse than trying to get someone to pay you money that they owe you.  Unfortunately there are a lot of time that you just are never going to see a dime from that person.  But if you can recover, I can help. I don't take every collection case that walks in the door.  I have to be selective about the cases I take because it can be time consuming and expensive.  But I'm more than willing to help you out if I can.
Evictions
Getting a dead-beat tenant out of your property is a nightmare.  It is only complicated by the Ohio Revised Code which is very specific about what a landlord must do in order to fully prosecute an eviction.  I have represented property management companies and landlords that owned over 2,200 units in the city of Toledo.  I know how to evict a dead-beat or troublesome tenant.  You need to get me involved early though, because one innocent misstep on your part and we have to start all over, which costs you time and rent money.
The flip side of that coin is representing tenants who are being wrongfully evicted by a landlord.  I know what a landlord can and can't do and will make sure that they follow the Ohio Revised Code to the letter of the law.  Even if they have done everything correctly, I may be able to negotiate on your behalf to keep an eviction off your record.  An eviction will hurt your credit and hurt your chances of renting again.
Real Estate
From house closings to drawing up simple deeds, I can make sure that you get what you need done.  When it comes to real estate things need to be done just-so or there may be dire consequences.  Some of these consequences may not be realized for years or decades.  You want to make sure things are done correctly the first time, and I can help.
Civil Cases
If someone injured you, you have the ability to take them to court and have yourself made whole again.  I don't accept every civil case.  Civil cases can be very technical and specialized, or just a temporal or financial burden on my practice.  But we should talk about it.  I'm going to make sure that you have the best attorney for the job.  That may be me or it may be someone else.  Either way I'll make sure your taken care of.
University Disciplinary Action
I have become very well versed in University Disciplinary Actions.  Each university maintains there own set of policies and procedures to deal with incidents on their campus.  However, each policy and procedure must comply with certain rules, regulations and best-practices as well as the Due Process Clause of the United States Constitution and the laws of the state of Ohio.  You shouldn't go into a disciplinary hearing blind.  You need to know your rights.  You also need to know how it could effect your future.  Often times school disciplinary action is closely tied to a criminal action.  Without realizing it you may incriminate yourself by talking to a disciplinary board, and that could really hurt you when it comes to your criminal charges.
Please don't hesitate to call me even if you don't think your issue fits neatly into one of these categories.  Often times your issue won't be easily identified, or will really fit in a different slot than you think it does.  That's why you should talk to a Toledo lawyer if you have any questions.  I will do what I can to help.