Finding the Right Toledo Law Office to Match Your Needs
Residents of Maumee, Ohio often need an attorney who can help them solve legal problems. While there are plenty of legal firms in practice, finding the best Toledo law office to help with legal issues in the Toledo OH area may be challenging. In planning your search for the best lawyer to work with on your problem, here are a few suggestions that may help.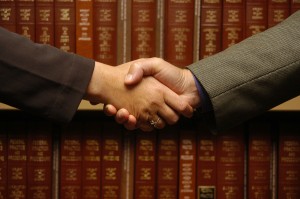 Write a brief summary of your issue.
A one-page statement outlining the facts of your legal concern will be of great help when discussing it with an attorney. In contacting a law office, you will be prepared to quickly describe your situation, which will save both you and the attorney time and likely lead to a prompt answer as to whether the firm can help.
List questions to be asked.
In addition to a statement of key facts, make a list of questions to ask during the consultation with a Toledo OH attorney. That way you will be prepared to get answers instead of waiting for the attorney to cover specific points of interest.
Take notes during the discussion.
As you confer with a Maumee, Ohio attorney, take notes. You don't have to capture every word, but you should jot down main ideas and important details that may be helpful later on. Most people forget eight-five percent of what they hear within twenty-four hours, so note-taking is critical for capturing and retaining valuable information.
Arrange a follow-up consultation.
If you feel the attorney is knowledgeable and can competently represent your legal interests, schedule an in-person visit if your first contact is by email or telephone. Sitting down face to face with a Maumee, Ohio attorney will help you evaluate the person's overall demeanor, including communication style, personality, and interest in your case. A discussion often leads to specific points about the legal situation that can be discussed more fully in the office.
Find out about the fee.
Attorneys may be paid in various ways. Some ask for a lump sum payment to cover a specific service, such as an adoption or divorce. Others ask for a retainer to open and file a legal matter with the court, with subsequent payments made monthly based on the attorney's hourly rate. Certain legal matters, like medical malpractice, for example, are often paid only if the attorney successfully wins a settlement or court verdict; the attorney usually takes a percentage of the win, such as a third. It is also important to ask about procedural costs, such as filing fees, copies, faxes, recording fees, and so on. Sometimes the client pays these expenses when billed monthly or quarterly. Other times the attorney pays up front, billing the client after the case is resolved.
Organizing information and questions about your legal situation will save time and money for both you and the attorney. A preliminary contact through email or via the firm's website followed by an office visit may help to answer questions about whether the firm can handle the case.
Contact Michael E. Bryant's Toledo, OH law office today to get the justice you deserve. Find Michael E. Bryant online at www.mebryantlaw.com, visit our law office in Toledo, OH on the second floor of 1119 Adams St. or call us at (419) 243-3922.