Bump, Set, Splat: An Ace For the NW Ohio Kidney Foundation with Toledo Attorney ME Bryant
October 6, 2014
Mud, crazy uniforms, fierce competition, and a great charitable cause: what do all of these things have in common? The answer is easy; the 3rd Annual 2014 Bump, Set, Splat Mud Volleyball Tournament.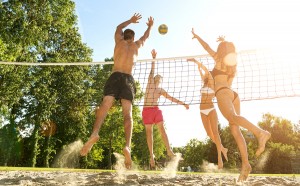 This year, I was given the privilege and opportunity to serve as the title sponsor for the annual co-ed mud volleyball tournament. The event, which was put on by the Toledo Sport and Social Club, took place on August 23 at the Lucas County Fairgrounds. Past event years have proven successful for the sport club, and the charity, and this year was no exception. This past August, 52 teams, comprised of nearly 700 players both young and old, participated in the all day, charity, round-robin event. As a result, approximately $5800 was raised for the Kidney Foundation of Northwest Ohio! The event truly was a success!
The Kidney Foundation of Northwest Ohio, which was established in 1996, is a not-for-profit health agency that presently serves residents living in 20 counties throughout Northwest Ohio. They exist to address the total problem of kidney disease, serving both those suffering from kidney diseases and disorders, and their family members. The money raised from the mud volleyball tournament will be used to provide financial assistance for individuals in need of help paying for prescription medications, transportation to and from doctors' offices or hospitals, and educational endeavors throughout the region.
Event organizers hope to expand the activities next year in hopes of attracting even more participants for such a great cause. Why not consider joining in the fun for next year's Bump, Set, Splat Tournament, and help serve up a win for the Kidney Foundation of Northwest Ohio!
If you have questions, or would like to learn additional information about the Kidney Foundation of Northwest Ohio, please check out their website at www.kfnwo.org. You can find information about donating your time or your financial gifts to benefit the organization and the people it serves.
Contact Toledo attorney Michael E. Bryant's Toledo, OH law office today to get the justice you deserve.
Find Michael E. Bryant online at www.mebryantlaw.com, visit our law office in Toledo, OH on the second floor of 1119 Adams St. or call us at (419) 243-3922.