5 Ways to Avoid Debt Settlement Scams With a Toledo Bankruptcy Lawyer
May 18, 2015
You don't want to ignore your piles of debts. The growing stack of pink-colored bills from collectors is a constant reminder of what you're unable to take care of on your own. You want to be responsible and find a reasonable solution that will still allow you to eat real food and avoid homelessness. But, there are so many scam artists and scrupulous businesses out there that pose as legitimate debt solution companies. How can you avoid becoming a victim of one of these scams when you're desperate to just find a solution and get it over with?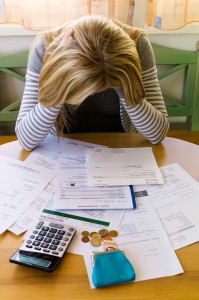 Five Ways to Avoid a Debt Solution Scam
Do your research. Be your own best advocate and do research about your options. Not every debt relief agency is working for your best interest. Ultimately, they are a business and are looking to make money, too. Talk to a debt-relief attorney to help you understand your legal options. An attorney will help you navigate through the process, understand fine-print language, and assist in finding you the best possible options for your situation. Consider credit counseling options, debt consolidation loan options, and even bankruptcy. Scams are everywhere, waiting to rob unwitting people of their money when they are most desperate.
Get Trustworthy Financial Advice. When your debts are piling up and you're looking for a way out of your financial mess, it's tempting to seek out advice from people who will make you feel good about your situation. But, what you really need is to have unbiased, objective financial advice. Sales affiliates for creditors are not paid to be objective. Talk to your attorney and meet with a credit counselor or financial planner. They can help you understand your debts clearly, look for realistic options, and find a solution that will work for you.
Question your fees.  There are many debt management scams out there that will try to take money from you before they should. Most of these services will charge you fees, but they shouldn't try to charge you before your debts are actually settled. As of October 2010, this practice is ILLEGAL. Your attorney and any other debt settlement agencies you work with should be honest and up front with their fees, expectations, and past successes and/or failures. Most things in life aren't free, and debt solution management usually isn't one of them. But, whatever options you choose, you deserve to know up front what fees you can expect.
Always check with the BBB. If you're searching for a debt relief attorney, check to see what their Better Business Bureau rating is. Do they have unresolved customer complaints? What is their client-to-complaint ratio? You need to have confidence knowing that you're putting your financial future and your debt relief solutions in the hands of reputable services.
Read your contract carefully. Are there hidden fees, contract loopholes, or other catches that you need to be aware of? This is one reason it's important to have a debt relief attorney on your side that understands the fine print details of any contracts you sign. You don't want to sign a contract, thinking that you're on your way to a new financial start, only to find out that some hidden fees or expectations that could cause you more trouble and headaches.
Finding your start to financial freedom through the right debt solution that works for you is possible with a dedicated Toledo Bankruptcy Lawyer on your side. Call me, Michael E. Bryant, today to learn what your options may be. Calling my Toledo law office at 419-243-3922  to schedule a no cost, no hassle consultation and put yourself on the path to a debt-free life.