What to Do When You Don't Want to Sign Divorce Papers
July 15, 2015
Couples often find themselves at a junction in their marriage where they have to decide which fork in the road is right for them. Do they work through their problems, attempting to revive new life into the relationship, or do they choose the alternative, parting ways altogether? Sadly, the decision can be extremely difficult, and many couples find themselves with opposing views. Divorce is rarely a quick decision for individuals to make, and the impending signs are usually there. However, the bonds of marriage can leave people easily blinded to the severity of the problems at hand.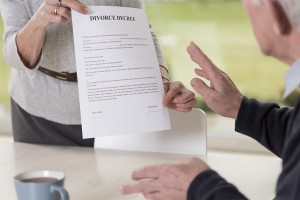 If you've been served with divorce papers, but are struggling with the idea of permanently ending your marriage, you might be feeling violated, angry, or even a little vengeful. If you want to reconcile your marriage, but your spouse is refusing, what are your options in the end?
Can You Avoid Signing Divorce Papers in Ohio?
Remember…In Ohio, only one spouse needs to want the divorce in order for it to progress to completion.
Here's what you can expect if you and your spouse don't agree on getting a divorce.
Your spouse will file the paperwork for a divorce with the Lucas County Court. You will receive a summons telling you to respond to the divorce filings. This court ordered notice would also tell you exactly how long you have to respond. You can either sign the papers or file to contest the divorce with the courts.
Do you think you can ignore the papers and prolong the divorce process? Maybe you're pretty upset that your spouse has filed for divorce, even through you were against the decision. Are you trying to stall the process and maybe make your spouse a little angry in the process? If so, you may want to think again. If your spouse successfully sends you the divorce papers and you ignore them, then he/she could still go to the judge for a default judgment. If you refuse to communicate your new home address to your spouse, he/she can legally post a divorce notice in the local paper with a respond-by notice date printed. If you do not respond by the published date, then your spouse can still legally proceed with the divorce process.
A default judgment is a possibility. If you don't respond to the summons, your spouse can go to the judge to request a ruling on the divorce. The judge will make a decision, based solely on the information provided in your spouse's petition. Choosing to ignore a court ordered summons could mean that your spouse might get that sought after divorce, even if the information provided against you in the divorce paperwork is completely false.
Do you have a desire to contest the divorce? If you do, be sure to pay attention to the deadlines listed in the paperwork. You may be able to contest or postpone the divorce for some legitimate reasons. You must be able to effectively communicate with the judge why you want to delay the proceedings; obtaining legal representation from a divorce attorney is a great way to ensure the judge will fairly listen to your arguments.
Getting a divorce can be a time consuming, disruptive process. Often an argumentative time, a one-sided divorce request can lead to a messy separation. Emotions can run high and both parties can be on edge. It's important to realize that, even if you don't want to accept a pending divorce, you may not have much of a choice in the matter unfortunately. But, by working together with your spouse to make the split as amicable as possible, you may be able to eliminate, or at least reduce, the amount of stress and suffering along the way.
You should feel confident knowing that a judge has a full picture of everything that has happened within your marriage, and you deserve to know that your name and reputation isn't ruined in the process. By contacting Michael E. Bryant, you can rest assured knowing that you'll have the representation you need to reach a fair conclusion to the divorce. Stop by our downtown office at 1119 Adams St. Toledo, OH or give us a call for more information.