School Threats Lead to Serious Consequences for Teens
June 17, 2019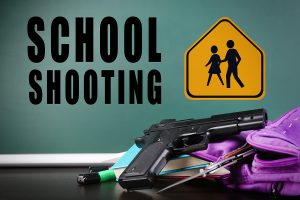 Since the events of April 20, 1999 at Columbine High School in Littleton, CO, there have been 730 other incidents of gun violence at schools in America. As parents and school administrators search for answers to the growing problem, one of the outcomes has been a more serious approach to handling the violence and even threats of violence. Kids that may have before simply been sent to the principal's office or been in contact with law enforcement over threats of school violence now find themselves being charged with felonies and winding up in court.
A Perfect Storm
Not being completely conscientious when opening their mouths to speak has been a hallmark of teenagers since time began. However, the stakes have never been higher for parents, school administrators, and law enforcement. There's no space to let teens be teens when it comes to the threat of school violence.
Many who have studied the problem will tell you that the number of threats hasn't necessarily increased in the 20 years since Columbine. In this post-Columbine world, though, the consequences for making such school shooting threats are becoming increasingly dire. Teachers, school administrators, and law enforcement can no longer afford to not take such threats seriously.
Social media seems to be compounding the problem, as stressed out students hit send on threatening statements before truly thinking through the consequences of what they are doing. Many take to the platforms in a cry for help, or to garner the attention of their classmates. Unfortunately, attention from law enforcement typically follows.
Costly Hoaxes
In the days following the Marjory Stoneman Douglas shooting in Parkland, FL, in 2018, there was a spike in school threats made. Even more recently, a high school student from Miami Beach, FL, traveled to Colorado after making threats against Denver schools in general on the eve of the 20th anniversary of the Columbine shooting. Denver schools shut down across the metro area while local law enforcement and the FBI conducted a manhunt for the offender, who ended up taking her own life as authorities closed in on her near Mt. Evans.
In this case, it seemed there was clear intent to do harm; she had flown to Colorado, purchased a shotgun and ammo and made school shooting threats. In other cases, however, parents and educators worry that there is a bit of an overreach occurring to less credible threats.
Across the country, kids who make threats like this are being charged with felonies. In Indiana alone in the days following the Parkland shooting, a 12-year-old was arrested for written threats against classmates, a teenage girl was charged with juvenile delinquency and intimidation after stating she wanted to "harm others," and a teenage boy was arrested and charged with felony intimidation after scrawling threats on a bathroom stall.
Proactive Response
While the number of threats being made spikes following a tragedy, the FBI has been taking action, cautioning students against making school shooting threats that could have lifelong effects. The campaign, entitled "#ThinkBeforeYouPost" stresses that school threats can no longer just be waved off. Also, the time, money and effort that law enforcement must put in to mitigate such threats have real-world consequences. At the same time, students, parents, and educators are encouraged that if they "see something, say something."
It's a fine line between preserving law enforcement resources and addressing school threats head-on. Until the national nightmare of school shooting threats are over, it is imperative that parents, educators, and law enforcement work together to ensure kids realize the true power of their words.
We're on your side. Contact us today to discuss juvenile law as it pertains to Ohio. We have the experience and know how to navigate these murky waters with you and we don't want you to go it alone.